Vaccine information
Information and resources regarding the Coronavirus vaccine can be found on the FBC Health & Human Services, Texas Health and Human Services, CDC and FDA websites.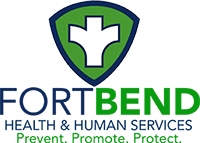 Walk-up vaccinations now accepted
All Fort Bend County run COVID-19 vaccine sites now accept walk-up vaccinations! Residents no longer have to schedule an appointment to receive a vaccine. To receive your free COVID-19 vaccination, please visit one of our vaccination sites on the days/times noted below:
Vaccine Site
Address
Days Open
Hours Open
FBC Fairgrounds
4310 TX-36 S, Rosenberg, 77471
Wednesday – Friday
Saturday
11:00 a.m. – 7:00 p.m.
9:00 a.m. – 4:00 p.m.
Katy Mills Mall (Suite 361)
5000 Katy Mills Circle, Entrance 3A, 77494
Wednesday – Saturday
11:00 a.m. – 7:00 p.m.
HCC Missouri City
1600 Texas Pkwy, Missouri City, 77489
Friday – Saturday
11:00 a.m. – 7:00 p.m.
5th Street Community Center
3110 5th St, Stafford, 77477
Tuesday – Thursday
11:00 a.m. – 7:00 p.m.
COVID-19 Testing – Walk-ups Welcomed!
No appointment needed! If you prefer an appointment, it's as simple as a phone call to (281) 633-7795.
| COVID-19 Testing Site | Address | Days Open | Hours Open |
| --- | --- | --- | --- |
| North Katy Annex | 22333 Grand Corner Dr, Katy | Monday – Friday | 8:00 a.m. – 5:00 p.m. |
| Rosenberg Annex | 4520 Reading Rd, Rosenberg | Monday – Friday | 8:00 a.m. – 5:00 p.m. |
| 5th Street Community Center | 3110 5th St, Stafford, 77477 | Monday – Friday | 11:00 a.m. – 7:00 p.m. |
Click here for more information about Covid-19 testing
Additional information